What to consider when selecting a Customer Data Platform (CDP) or Customer Data and Experience Platform (CDXP), how to compare all those offers at your table? Which is the right CDXP for you?
Let's take a look at key distinguishers, which will make your choice much easier!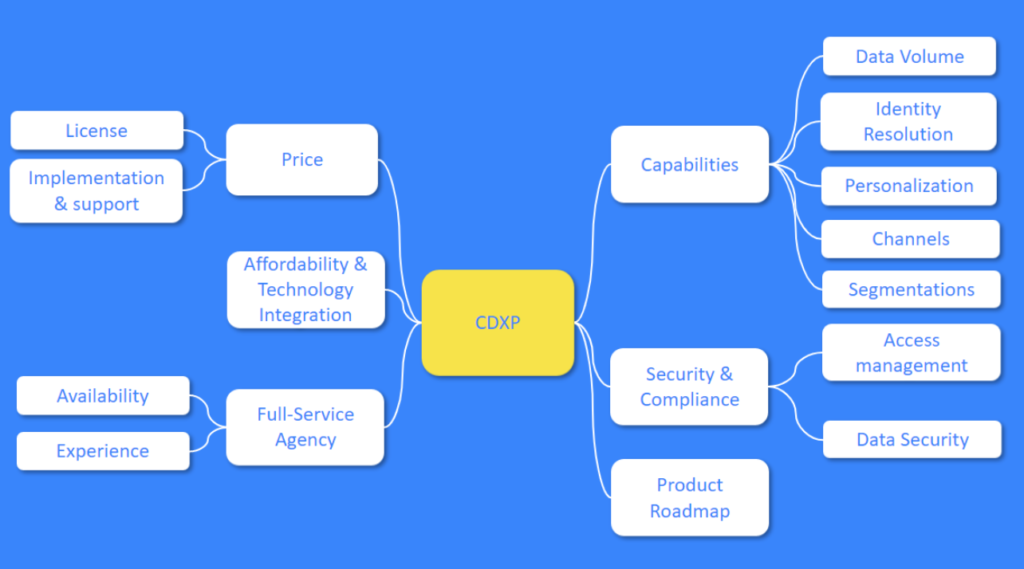 Technology Integration
Check whether the CDXP you're considering integrates most readily with the existing technology stack of your company. If the tool doesn't match your business needs from the beginning, you will incur higher costs and resources down the line.
Data Volume
Identify the amount of data you will be sending to the CDP or CDXP platform. Platforms might be limited in capabilities to process or store big data, which might affect overall data consistency and campaign latency.
Identity Resolution
A CDP's best feature is creating a 360 degree customer profile based on user behavior across all devices. Though, not all experience platforms (or marketing automation and personalization software) offer this feature. Double-check this to be sure you are building marketing based on a single customer view and clean data.
Real-time Data & Segments
To make data functional your CDP should update customer profiles and segments within seconds of receiving data. It should include both known and anonymous customer profiles. It is essential to personalize an experience for both known and unknown users in real-time across multiple platforms.
Communication Channels
Consider out-of-the-box marketing channels as well as the flexibility to add custom channels for communication with the customers. Consider automations and A/B test capabilities as well as AI capabilities to identify the best channels and content.
Personalization
Identify what you would like to personalize and whether the CDXP platform offers this. The capabilities vary and might not be the same for personalizing communication channels, creative, website experience, and mobile experience.
Compliance and Security
With all available first-party data collected in one system, a CDP should enable your organization's ability to respond to General Data Protection Regulation (GDPR) and meet security standards, including on-premise and private cloud solutions. Also access management and layers of access vary from tool to tool – consider the granularity your company requires in providing access to certain data or campaigns within the right CDXP.
Product Roadmap
This distinguisher is not something you might consider right away. But it's important to know how the software you consider was growing before and which features and integrations they are planning to implement. Buying an outdated tool is not the best idea, right? The product growth should be aligned with the market dynamics.
Full-Service Agency
A CDP and a CDXP are complex software that integrates multiple channels. It requires involving experts to implement, integrate, and optimize the customer experience. By leveraging consultancy agencies, a company can outsource efforts, get continuous support and keep business continuity.
If you would like to know more, contact us at CDXP.me. We will be happy to guide you 1st hand to choose the right CDXP.