Instagram is a social network platform that allows users to upload and share their photos and videos with their followers. Instagram's main purpose is to share your most valuable memories and the most important pictures with your friends. But it has some other functions as well.
Instagram is widely used not only among individuals but also as a great tool for promoting your brand. This social network allows businesses to start a free business account where they can promote their products or services. With a business account, you have access to various metrics and analytics such as impression, engagement, or conversion rates.
[toc]
Instagram Features
Since its launch in 2010, the main focus of Instagram is to share photos and videos. This goal remains the same even after acquiring by Facebook in 2012.
Thanks to keeping the interface simple this platform provides an intuitive user experience.
However, IG has a variety of features:
Upload photos and videos
Edit uploaded media with filters
Organize content with hashtags and location
Search other users' media by hashtags and locations
Make your own profile
Interact with other users' posts ("like" or "comment")
Follow other users
Tag or mention other users
Use direct messaging
Share stories
Upload and Edit Photos and Videos
Thanks to Instagram you can upload media and share it not only with your friends and followers but also with all of the other users of this platform. There's also a possibility to turn the sharing on for other social networks (Facebook, Twitter, or Tumblr). In one post you can share multiple photos or videos at once.
IG is also equipped with features for editing photos and videos. You can crop, rotate, zoom, add various effects and filters to enhance your posted media. There's a possibility to use preset filters or to edit photos by yourself (with effects such as brightness, contrast, saturation, warmth, shadows, fade, and many more).
Organize Content
The app's interface allows users to use hashtags to organize their posts. Thanks to hashtags other users can find you and interact with you according to shared interests.
You are also able to find the content you are looking for quickly. There's also a feature allowing you to add a location to your post. This way other users can see where your photo was taken.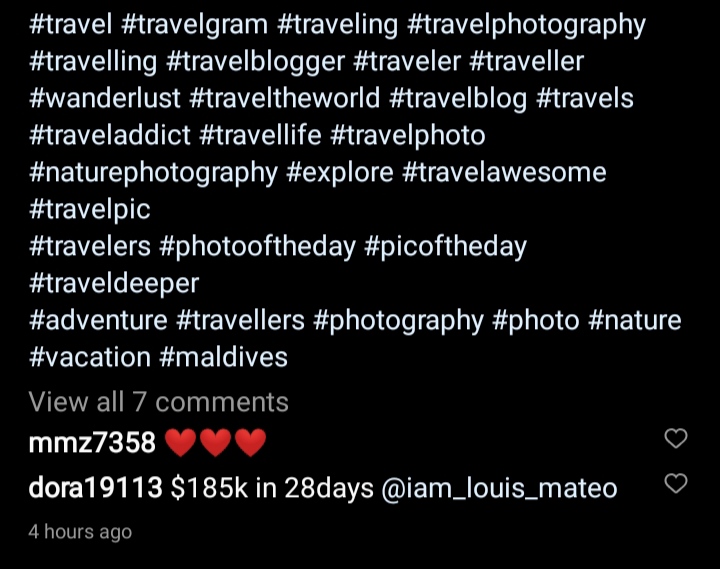 Make your Own Profile
As a user, you can create your own profile. Here you can add your bio and a link to your website. Besides this basic information in your profile section, you can find a list of your followers, people you follow, and your uploaded photos and videos.
You have 2 options when setting your profile: you can make it public or private. A public profile means that all media uploaded by you will be viewable by every Instagram user. When you set a private profile you approve individual users who will be allowed to view your posts.
Interact with Other Users' Posts
As with other social networks, also on Instagram you can "like" other users' pictures (by hitting the heart icon) or adding some comments below the posts.
Follow, Tag, and Mention Other Users
You can follow accounts of other people you found interesting simply by hitting follow button.
There's also a possibility to tag or mention other Instagram users:
By tagging a user on your photo you add a clickable link to his/her profile.
To mention someone you type @ and start writing their username (without a space) in your post description or in a comment. By mentioning someone, they'll get a notification about your mention in their activity feed.
You can tag someone only if you're the content creator, on the other hand, mentions can be done by anyone.
Use Direct Messaging
Messaging with other people is no big news among social media. With this feature, you simply communicate with other users privately. You can send them texts, pictures, videos, voice messages, and also "view once" media (after viewing it users can't view it again).
Share Stories
Perhaps the most favorite feature among users is Instagram Stories.
Stories allow you to share moments from your day in the form of photos or videos (as many as you like). When creating your story, you can use various filters, emojis, stickers, you can add text, drawings, etc. Each story will disappear after 24 hours.
According to your privacy settings, only those people who have access to your posts will see your story.
Use Instagram for your Business
According to data from Instagram, more than 1 million advertisers globally use Instagram to share stories, promote their business, and drive results.
And do you know, how people discover new products?
83% of surveyed people claim that they discover new products or services on the Instagram app.
By creating a business profile on Instagram you'll gain many benefits.
Here's what you can do to improve visibility, reach, and traffic for your brand.
Write an Appealing Bio
You have only 150 characters available so it should be straight to the point. In a bio is your opportunity to present your brand in the best light. Take your time to perfect it.
Don't forget to add relevant contact information so people can contact you directly (show your email, phone, or address).
Use emojis when it's appropriate. The right emoji will draw users' attention to the important info.
You should also include a clear CTA: What do you want your visitor to do? Give them a reason to complete that action.
Work with Instagram Insights
With a business profile, you'll gain access to Instagram insights.
Insights are metrics that help you analyze the performance of your profile. Insights include the number of profile visits, reach, impressions, and clicks, information about your followers (demographic and their activity).
With all of this data, you get to know your audience better so you can set your business strategy accordingly.
Set up an Instagram Shop
Instagram Shop allows you to upload and showcase a product catalog and tag your products.
You can also use shoppable tags in your stories. When users click on your tagged goods it'll send them to the product page where they can make a purchase.
Engage your Audience by Responding to their Comments
When someone comments on your profile or mentions your brand you should always respond to them. This way users will feel unique and they will likely keep engaging with your business.
Use the Right Hashtags
With the help of hashtags, your content and products will be easier to find. Once someone is trying to find a solution to his problem and your brand pops up in search results, voilá, the potential customer just found a way to you.